Chambers Global 2021: KNOETZL Celebrates Superior Global Ranking in Dispute Resolution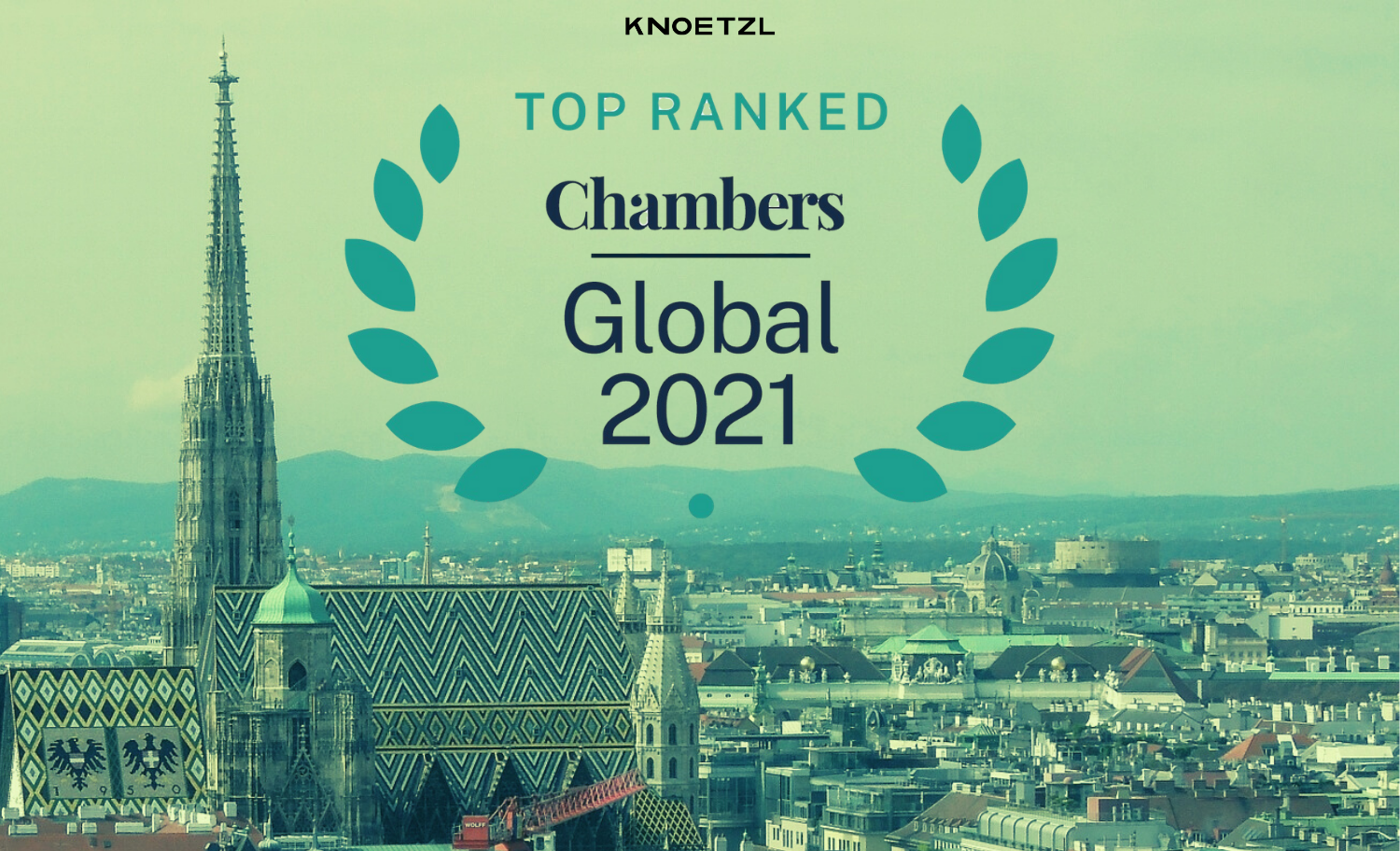 The 2021 edition of Chambers Global: The World's Leading Lawyers for Business, recognizes KNOETZL with two practice rankings, and honors four individual KNOETZL Partners, named as leading lawyers and/or distinguished for their cross-border experience. Highlights from the 2021 edition include the firm's "Band 1" ranking in Dispute Resolution in Austria and the rankings of Bettina Knoetzl (Band 1), Florian Haugeneder (Band 2), Patrizia Netal (Band 4) and Emmanuel Kaufman recognized as Foreign Expert for Argentina.
Chambers describes KNOETZL as "High-class boutique offering extensive expertise in local and cross-border litigation as well as international arbitration". The honor of being recognized as one of the top law firms in Dispute Resolution in Austria is a big step and great success for KNOETZL's team. Therefore, we are thankful and humbled to be given such recognition by Chambers. Our thanks for these outstanding results go to our valued clients for their thoughtful recommendations and their reliance upon KNOETZL. At KNOETZL we aim to provide our clients with legal excellence, and we are more than delighted to receive such a ringing endorsement from them.
We also wish to thank our business partners, colleagues at the bar, both in Austria and around the world, as well as everybody at KNOETZL, all of whom contributed to this heady news.
In the Chambers' short description of KNOETZL, a client is quoted about Bettina: "She is fantastic. She is highly experienced, and really knows what the judges will be thinking and how to put the argument best so that it will appeal to them. She is excellent on strategy as well ":  Chambers, itself, refers to Bettina as a "Top-class lawyer ".   The Chambers researchers describe KNOETZL Partner and Head of Arbitration Florian Haugeneder as a "leader in arbitration proceedings on a variety of finance and construction issues ". Chambers continues, about KNOETZL Partner Patrizia Netal: "She is increasingly visible in the arbitration market, with cases primarily relating to post-M&A disputes and construction."  A grateful client says of her: "She was fully dedicated to the case ". Chambers also recommends KNOETZL Partner Emmanuel Kaufman for "inter alia, matters regarding bilateral international treaties".
The Chambers Global rankings, based largely upon interviews with lawyers and clients, look at a broad range of qualities, including legal ability, professional conduct, client service, commercial awareness, diligence, and commitment to the client, to provide an independent assessment of counsel throughout the region.
The latest results can  be found at: Chambers.