KNOETZL WELCOMES FORMER EVERSHEDS PARTNER, OTHERS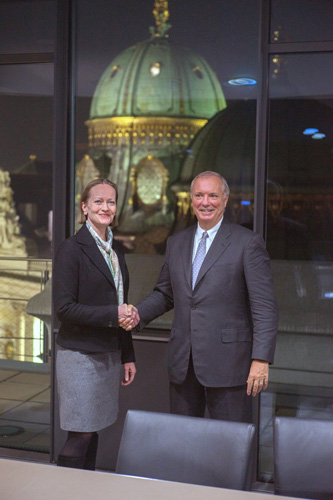 KNOETZL's growth continues with the addition of three new lawyers in Vienna, including new partner Dr. Teresa Bogensberger.
Dr. Bogensberger joins KNOETZL as former partner of Eversheds. She is a senior intellectual property, unfair competition and labor disputes specialist with over 20 years' experience who regularly represents clients before Austria's intellectual property authorities and courts as well as in international IP disputes at both EUIPO and WIPO.
Joining KNOETZL alongside Teresa are Tobias Schaffner, a Swiss-qualified disputes specialist who has a Ph.D. from Cambridge University, and associate, Sebastian Pribas. Tobias joins the firm as Counsel in a friendly acquisition from our friends at  Zurich's Baldi & Caratsch.
Sebastian Pribas comes to KNOETZL via the corporate, mergers and acquisitions group and the public commercial and European law group, of one of the largest multinational, law firms in Vienna, covering the CEE and SEE regions.
Tim Pfister, KNOETZL's Managing Partner, said: "It is an honor to welcome Teresa Bogensberger to the firm. Teresa is one of the most qualified IP, unfair competition and labor litigators in Austria. By bringing her expertise in these areas to bear here at KNOETZL, she will help broaden our practice which encompasses virtually every form of disputes expertise.  We are very pleased that Tobias and Sebastian will be adding to our mix, as well. It's all part of our plan to continue bringing together the most effective, experienced and perceptive legal minds in the market and to offer the most effective advocacy available anywhere to our clients."