KNOETZL Addresses Europe-Wide Corporate Criminal Legal Issues at Forum Alpbach 2016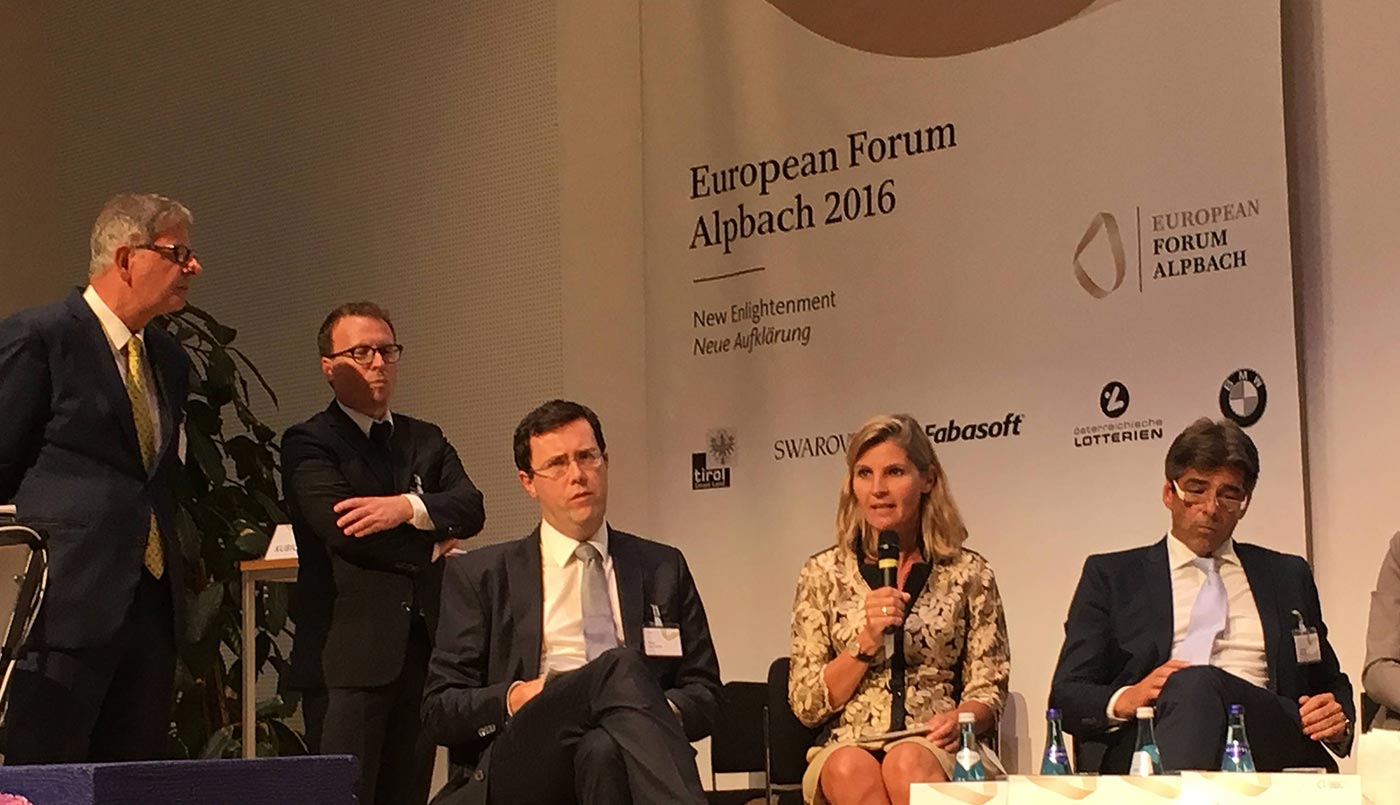 The European Forum Alpbach which was founded in 1945 by Otto Molden, who had been active in the Austrian resistance movement was held from August 18 to September 3 this year. Each year, more than 4000 people from over 70 countries attend and participate in the European Forum.  The Forum's events are held in the small village of Alpbach, in the Tyrol.
This year's theme, "New Enlightenment", included programs, symposiums and seminars on European law, politics, finance, culture, education, health and economics, as well as on matters of major impact, interest and urgency to Europe.
As the program sponsors posit: "History does not progress to better things on its own. It needs curious and enthusiastic people to counter the doubt, the skepticism and the loss of the familiar with intrepid ideas and illuminating thoughts. The European Forum Alpbach 2016 allows these explorers from the fields of science, business, politics, arts and civil society to find inspiration through dialogue.  Armed with sound knowledge, convincing arguments and a great deal of passion, they are on the trail of a "New Enlightenment" and seizing on the unfamiliar in words and thought.
This year's Congress was opened in dramatic fashion upon the controversial and stirring remarks of European Commissioner – President Jean-Claude Juncker, including rousing observations about migration — at the same time as German Chancellor Angelica Merkel met with French President François Hollande and Italian Prime Minister Matteo Renzi to also discuss similar issues, including migration.
After the Forum settled into its serious business,  several law-oriented symposiums were offered.  Among the most well-attended of these was a main-auditorium, roundtable discussion of noted practitioners and legal academics in civil and criminal law from various centers in Austria and Germany.  Their topic observed that, "unlike the EU, the USA often claim(s) worldwide jurisdiction over violations of US law", and explored the question of: "Should Europe develop a corporate criminal law for serious violations by international companies and also envisage a European jurisdiction?"  KNOETZL partner, Bettina Knoetzl spoke and, among a number of observations offered, favored implementing a system of global coporate liability, in order to safeguard fair competition.  She recommended – based on the notion that it is not wrong for a business enterprise to be driven by pure profit motives – that the law would do well by providing corporations with clear incentives, aimed at enhancing their bottom line in order to encourage their compliance and willing assistance in eliminating human rights abuses in the business community. Non prosecution agreements, as they are known under the FCPA, should be possible, if corporations implement robust compliance systems and – despite best efforts – individuals fail. At the same time, she suggested, "the law across Europe should establish that the  costs for misbehavior are ultimately higher than the costs of compliance."